About David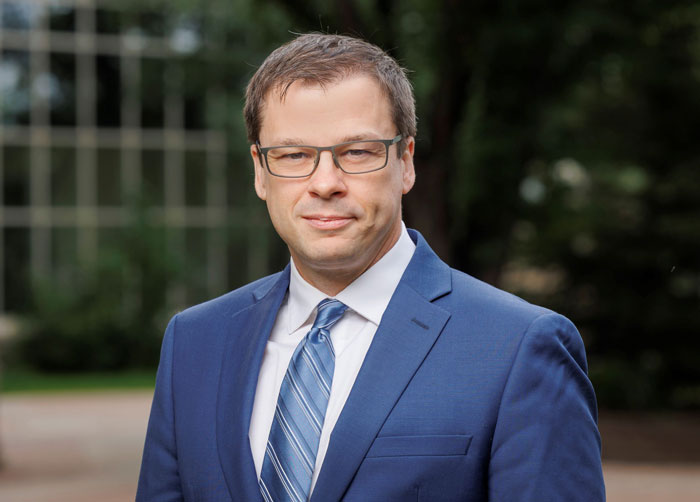 David graduated from the College of Law, University of Saskatchewan with his Bachelor of Laws in 1999 with Great Distinction. He earned his Bachelor of Arts (Philosophy), with Great Distinction, from St. Thomas More College, University of Saskatchewan. David has also completed the academic requirements of the Institute of Corporate Directors, Rotman School of Management and Edwards School of Business, NFP Governance Essentials Program.
David was on the faculty of the College of Law, University of Saskatchewan in 2001-2002, where he taught Contracts and Torts classes. He then returned to private practice and became a partner at McKercher LLP.
David joined the University as general counsel in 2021 after many years of private practice, including a significant practice advising post-secondary, primary and secondary education clients. David has been recognized by his peers for inclusion in The Best Lawyers in Canada in the field of Education Law. David has appeared in all levels of court in Saskatchewan. He has also appeared in the Alberta Court of Appeal and the Supreme Court of Canada.
In 2012, David received the Queen Elizabeth II Diamond Jubilee Medal. He was honoured with his appointment as Queen's Counsel in 2014.
Publications include: Co-author of "Students" in Handbook of Canadian Higher Education Law, edited by T. Shanahan, M. Nilson, and L. Broshko (Montreal and Kingston: McGill-Queen's University Press, Queen's Policy Studies Series, 2016); "Business Competition from Former Employees" (2009) CBA National Business Law Section Newsletter; "The First Decade of RCAP's Influence on Aboriginal Law" (2007) 70 Sask. L. Rev. 123-151; "The Impact of RCAP on the Judiciary: Bringing Aboriginal Perspectives into the Courtroom" (1999), 62 Sask. L. Rev. 471-514; "The Two Standards of Good Faith in Canadian Contract Law" (1999), 62 Sask. L. Rev. 201-223 (cited by the United States Court of Appeals in Benton v. Cameco Corp., 375 F.3d 1070 and the Supreme Court of Canada in Wastech Services Ltd. v. Greater Vancouver Sewerage and Drainage District, 2021 SCC 7).
Role
General Counsel oversees the provision of internal and external legal services to the institution and provides strategic legal consultation and support on a comprehensive range of legal issues, policies and procedures. General Counsel serves as an institutional leader and provides insight on a wide range of law-related issues, and leads the Legal Office which works to support all academic, research and support units across campus.
Responsibilities
provide strategic legal advice and manage the provision of a full range of legal services to the university, its senior leadership and its governing bodies
champion the mission, vision and values of the University of Saskatchewan
identify and mitigate legal risks
foster an institutional culture of compliance and risk management
communicate with and manage relationships with external counsel and other bodies
oversee and manage internal legal staff and resources
Contact
For scheduling requests, please contact Erin Kornaga.